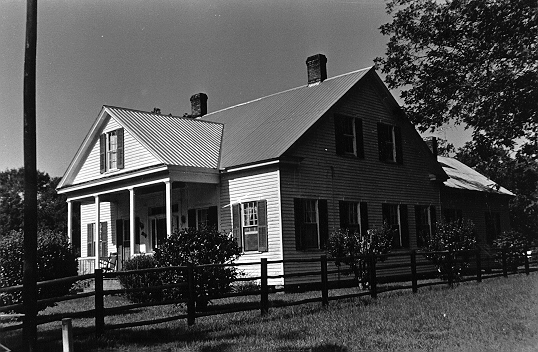 Historic Name: Epney
Address: Off La Highway 445
City:  Amite
Parish:  Tangipahoa
State: LA
Zipcode: 70422
Status:  National Register
Date Placed on National Register: 6/21/1984
Level of Significance: Local
Area of Significance:  architecture
Property Type: Other Rural Residence
Architectural Style: Greek Revival
Theme: Anglo-American Architecture
Epney (c. 1885) is a story and a half, frame, late Greek Revival farmhouse located in rolling, stock grazing country in central Tangipahoa Parish. The house has received only a few minor alterations and hence retains its National Register eligibility.
The five bay house has a pedimented portico and a central hall plan. The main block of the house is two rooms deep and has a linear rear wing. There is also an "L" shaped rear gallery which embraces the back of the house and the rear wing. At each end of the "L" is a small enclosure which resembles a cabinet. These small rooms appear to be original, despite their odd placement, At the rear of the central hall is an enclosed staircase which leads to the finished garret. The house has a total of four chimneys, all set between rooms.
The front portico has four Doric pests, two pilasters, a frieze, and a drip cornice. It is surmounted by an overly vertical pediment with an inscribed six over six window. The front doorway features a transom, side lights, molded capital pilasters, a frieze, and a drip cornice. The facade of the house is surmounted by a frieze which is a bit lighter in proportion than the portico frieze. The gable ends of the house feature end returns. Windows are six over six and the shutters have movable louvers in the lower panels and fixed louvers in the upper panels.
The interior features flush boarded walls and transoms over the doorways. Detailing is simple with flat paneled doors and no cornices. The seven mantels are all of identical design with molded capital pilasters and heavy entablatures.
Assessment of Integrity:
Since construction, the following changes have been made in the house:
1. The rear gallery has been enclosed.
2. A modern kitchen has been installed in the rear wing.
3. A bathroom has been installed.
4. A wide opening has been cut between two of the rooms in the rear wing.
In our opinion, these alterations should be regarded as minor.
To the rear of the house is a c.1900 board and batten shed. It is listed as a contributing element because it helps establish Epney's historic identity as a farmhouse.
Specific dates   c.1885
Builder/Architect  Builder: William A. Bell
Statement of Significance (in one paragraph)
Criterion C
Epney is locally significant in the area of architecture as one of Tangipahoa Parish's architectural landmarks. It is a rare and important example of the Greek Revival style in the parish.
Tangipahoa Parish experienced significant development in the late-nineteenth and early-twentieth centuries due largely to booms in strawberry and lumber production. As a result, it has a large contingent of buildings dating from this period of prosperity. The Queen Anne Revival, Colonial Revival, bungalow, and late Italianate commercial styles are all well represented.
This period of rapid development, however, apparently obliterated the parish's earlier building stock. As far as the State Historic Preservation Office is aware, there are only about half a dozen extant buildings in the parish which represent the Greek Revival taste. Of these, Epney is thought to be the only one with a pedimented portico. Although the pediment is a bit too vertical in proportion, it still represents the parish's closest approximation of the Greek temple form, which is the hallmark of the style.
Major Bibliographical References
Historical sketch submitted by owner. Copy in National Register file, LA State Historic Preservation Office.
Tangipahoa Crossings: Excursions Into Tangipahoa History. Baton Rouge, Morgan Publishing Corporation, 1979.