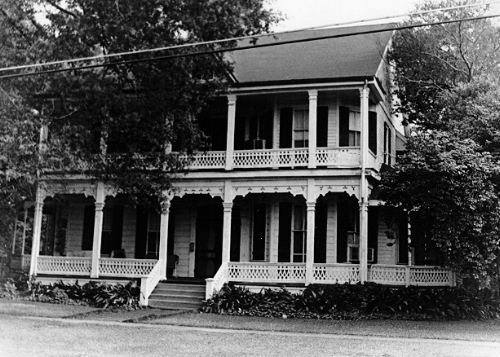 Historic Name: Greenlawn
Address: 200 East Chestnut Street
City:  Amite
Parish:  Tangipahoa
State: LA
Zipcode: 70422
Status:  National Register
Date Placed on National Register:  5/31/1980
Level of Significance: Local
Area of Significance:  Architecture
Property Type: Urban Residence
Architectural Style: Renaissance, Queen Anne Revival
Theme: Anglo-American Architecture
Greenlawn House is set on a corner lot in the old residential section of Amite one block south of the main commercial street.
The two and one-half story frame house has a one-story rear wing and full galleries in front. Although the house has a central hall plan and many decorative features of the Victorian Renaissance Revival, there are also touches of the Queen Anne. Renaissance Revival features include:
1. The basic five-bay articulation of the house and the Classical style galleries with their elaborate cut-out woodwork.
2. The aedicule motifs surrounding the doors and windows. (The front doorway is particularly noteworthy in this regard with its cornice which rests on consoles.)
3. The interior staircase with its heavy turned newel post.
The design also includes touches of the Queen Anne:
1. Large areas of patterned shingles.
2. A tall central roof gable.
3. Three semi-octagonal bays.
The interiors are large and plain with scrollsaw ornamented mantels. The staircase has been moved.
Specific dates   1890's
Builder/Architect  Bolivar Edwards, Builder
Statement of Significance (in one paragraph)
Criterion C
Greenlawn is a landmark residence in Amite because it has the town's only two-story galleried front complete with molded capital pillars and full entablature. It also spreads to an impressive five bays and is further extended by side porches This locally formed and pretentious statement can be compared with other large residences in Amite which have plain boxy exteriors or one-story galleries with turned columns. Moreover, Greenlawn is richly ornamented with scrollsaw decorative to a degree seldom seen in the area.
According to local tradition, the house was built in the 1890's by Bolivar Edwards, a prominent Amite lawyer, Edwards was district attorney of the Sixth Judicial District during Reconstruction and was a representative in the Louisiana legislature from 1874 to 1876. In 1888 he was elected to the office of district attorney of the Eighteenth Judicial District. The house remained in the Edwards family until 1972, when the current owners purchased it from Olive Stevens. (Tangipahoa Parish Records, Conveyance Book 370, p. 535.)
Major Bibliographical References
Tangipahoa Parish Conveyance Records.
Letters from Mrs. Leah Beth Simpson to State Historic Preservation Office, 7 June and 2 August,  1979, located in National Register file on Greenlawn.
Biographical and Historical Memoirs of Louisiana, Vol. I, Chicago: The Goodspeed Publishing  Company, 1897.